Current Research in Nutrition and Food Science
Current Research in Nutrition and Food Science Journal is a open access, peer reviewed international journal.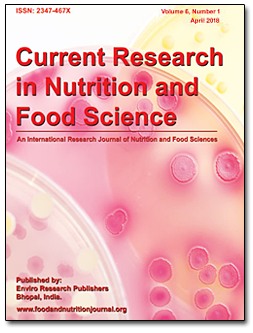 Scope of Journal:
Calorie Intake and Consumption, Carbohydrates and Fibers , Clinical Nutrition , Consumer Choice, Diets and Diseases , Eating Disorders , Food Chemistry, Engineering and Microbiology , Food Conservation and Preparation , Food Machinery , Food Packaging , Food Processing Technology , Food Safety and Hygiene , Food Science and Technology ,Healthy Eating Initiatives , Hormonal Regulations , Malnutrition , Maternal and Infant Nutrition , Metabolism and Nutrition Physiology ,Molecular Gastronomy , Nutrient Metabolism , Nutrition and Immunology , Obesity , Proteins and Amino Acids , Public Health Nutrition , Sports Nutrition , Vitamins and Minerals and Animal nutrition
Please click here to submit your article.
Rapid Publications:
The accepted and reviewed articles are published online rapidly ahead of the print issue for the benefit of authors and researchers. The PDF files for articles will be added with the print issue.
---
---
---
---
---