Chief Editor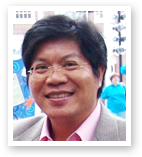 Prof. Min-Hsiung Pan had completed his Ph.D in 1996-2000 in Biochemistry from National Taiwan University. In year 2000 he become a Postdoctoral Associate at Department of Food Science, College of Medicine, National Taiwan University, Taiwan. He won the Outstanding Research Award of National Science Council in 2011 and the Ta-You Wu Memorial Award of National Science Council, Taiwan 2007. He was awarded with the 46th Ten Outstanding Young People, Taiwan in 2008. He was a Dean in Research & Development Affairs at National Kaohsiung Marine University. He had been the Director of Interns and Alumni Service Division National Kaohsiung Marine University from 2009 – 2011. He had participated in many National and International conferences. He was the Vice Chairman for the 9th International Symposium of Food Science held in July 2016, Shenyang, China. Currently he is a Distinguished Professor in the Institute of Food Science and Technology at National Taiwan University.
He is the Editorial Board member in numerous renowned journals and also serving as an eminent reviewer for 31 journals including PLOS ONE.
He is the author of more than 270 articles with 8579 Citations, several Chapters in 12 books, 8 Patents and having H index of 47. He has actively participated in 20 Conferences.